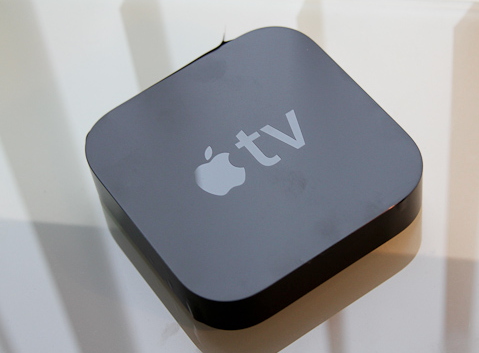 I finally got the courage to jailbreak Apple TV2 with a new seas0npass crack.. After spending 2 hours doing it.. i finally figured out and did it successfully.
I am going to share the same steps which worked for me here.
Disclaimer: I / The Source / The Dazzlers Inc. is not responsible for any damage the below process might do to your Apple TV. This has worked flawlessly in my case and you can revert your software to the original version whenever you wish..
::Pre-Requisites::
Apple TV2
Micro USB Cable (See Pic Here)
iTunes latest version downloaded and installed — (Download here)
Seasonpass update file — (Download Seas0nPass - Zip File - Apple TV2 - Downloaded 742 times)

Disable your anti-virus / firewall during the time of this update. All though it is not mandatory, it will help you cross some issues.
Unzip seas0nPass to a folder location (C:\Apple_Jailbreak\ – in my case)
Execute Seas0nPass.exe, you will be presented with a screen like below
Select the above button "Create IPSW" and be patient as it downloads a 522 Mb file to your MyDocuments\Seas0nPass directory
During the above process you will get a screen like below:
After download is complete, you will be faced with a screen like below. In this screen, get your Silver apple tv remote. The plastic remotes dont work. Plug in your apple tv in power, connect the micro usb cable to apple tv and your computer.
Press the "Menu" and "Play-Pause" button on the remote when the light on the Apple TV flashes rapidly. If you have not plugged in power now, you might get an error saying "Unable to upload file in DFU mode" later on.
Patience now.. file upload will be complete and finally iTunes will open automatically and complete the process. Please do not touch the keyboard or mouse at this point till the process is complete.
Now, all process done.. Set up the Apple TV with the HDMI cable and in the first row, last icon, you should find a "FC" logo for "Settings" icon. If you find that logo, your process is successful..
Happy Hacking !! Let me know if you get stuck anywhere…
Next up.. Installing XBMC media center on jailbroken Apple TV ..
Warning
: Missing argument 1 for cwppos_show_review(), called in /home/thedaz5/public_html/source/wp-content/themes/flat/content-single.php on line 29 and defined in
/home/thedaz5/public_html/source/wp-content/plugins/wp-product-review/includes/legacy.php
on line
18